The Expert Mentoring Group consists of 6 online masterclasses (plus the ability to ask questions in between) delivered live through a private Facebook group.
Calling all people-helpers, change agents, coaches & therapists!
How would you like to receive expert mentoring, streamed directly to your living room, to help you further develop your skills as a change-worker?
If so, we'd love to have you as part of The Expert Mentoring Group.
In this Expert Mentoring Group, we'll be focusing on The Business of Change – scroll down for an overview of the curriculum.
So if you're a budding coach, therapist or people-helper of any description, and you'd like to turn your knowledge and growing expertise into a thriving business then you'll be a perfect fit for the group.
The lessons will take place on a private Facebook group (after enrolling, you'll be added to the group) and will consist of the following:
6 fully interactive, specially created, Facebook Live events targeting key areas of business that will help you unleash your skills, talents and desire to make a difference to the world.
Ongoing in-group support from Brian and Steve (they'll be answering your questions during the FB lives & in between each lesson).
Ad-hoc videos and audio answering group questions and giving additional learning and development as we go through the 7 weeks.
And of course, a bit camaraderie & support from your fellow group members :-).
*Important note: if you miss any of the live broadcasts they can be viewed on playback in the group – they will also remain there for 2 months after the end of the last lesson.
You can join Brian, Steve and an amazing group of like-minded professionals, in The Expert Mentoring Group for only £397 (RRP = £447).
*Note: If you want to pay in instalments, please contact Liz at: liz@scottishcentreofnlp.com
This is an amazing opportunity to model and learn from two of Scotland's leading experts in personal change.
The first lesson will be on March 17th but you can enrol early and we'll add you to the group.
Where & when will they take place?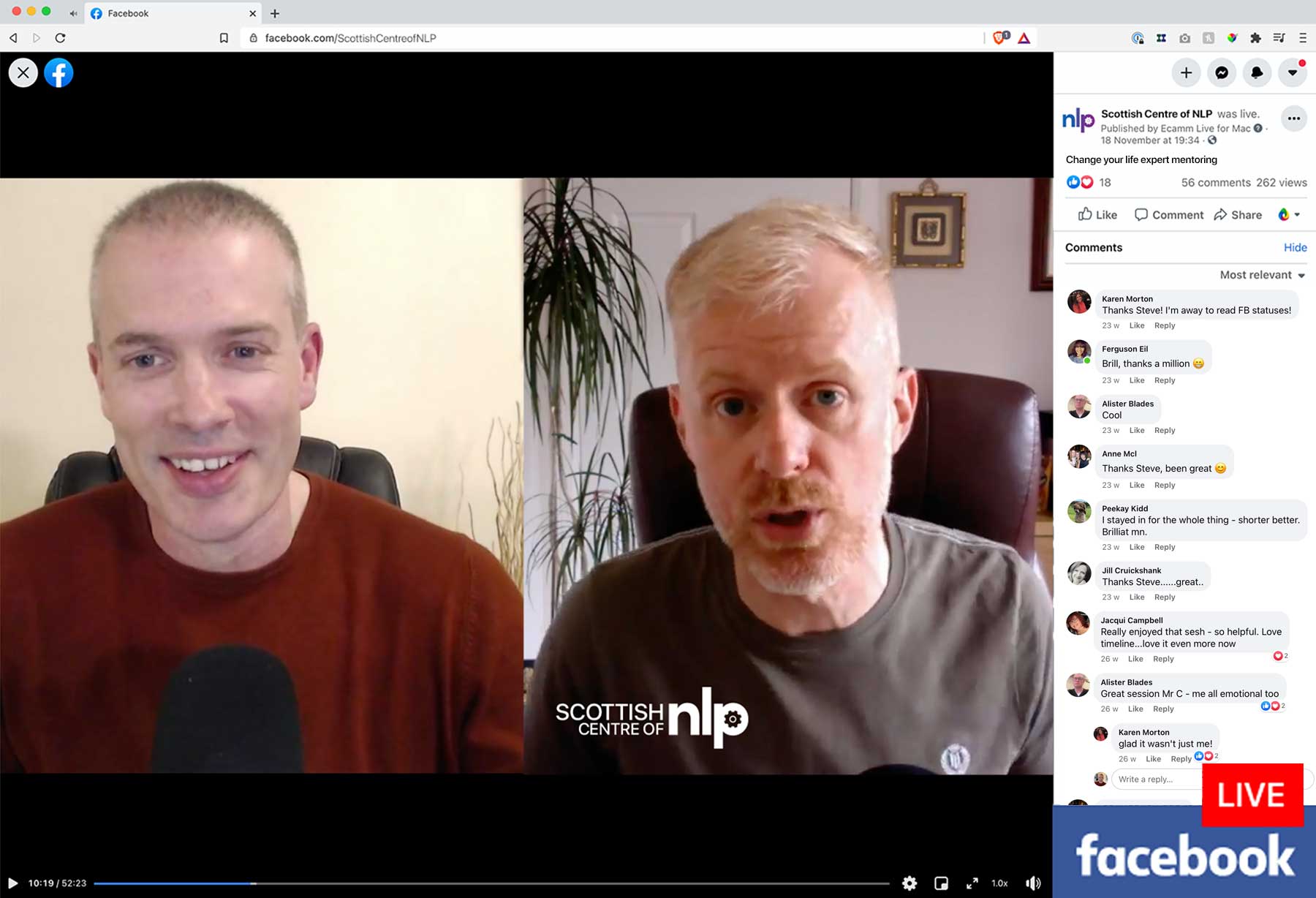 The Expert Mentoring Group will take place in a private Facebook group. When you enrol, you'll be diverted immediately to a page that will give you all the instructions you need to join the group.
Here is a list of the session dates:
Session 1 = 17th March.
Session 2 = 24th March.
Session 3 = 31st March.
Session 4 = 7th April.
Session 5 = 14th April.
Session 6 = 21st April.
Each session will kick off at 6.30pm and last for between 1 and 1.5 hours.
*Important note: Don't worry if you miss a session! They will all be stored in the group and we'll be keeping the group open for 10 weeks after the last lesson.
Your Instructors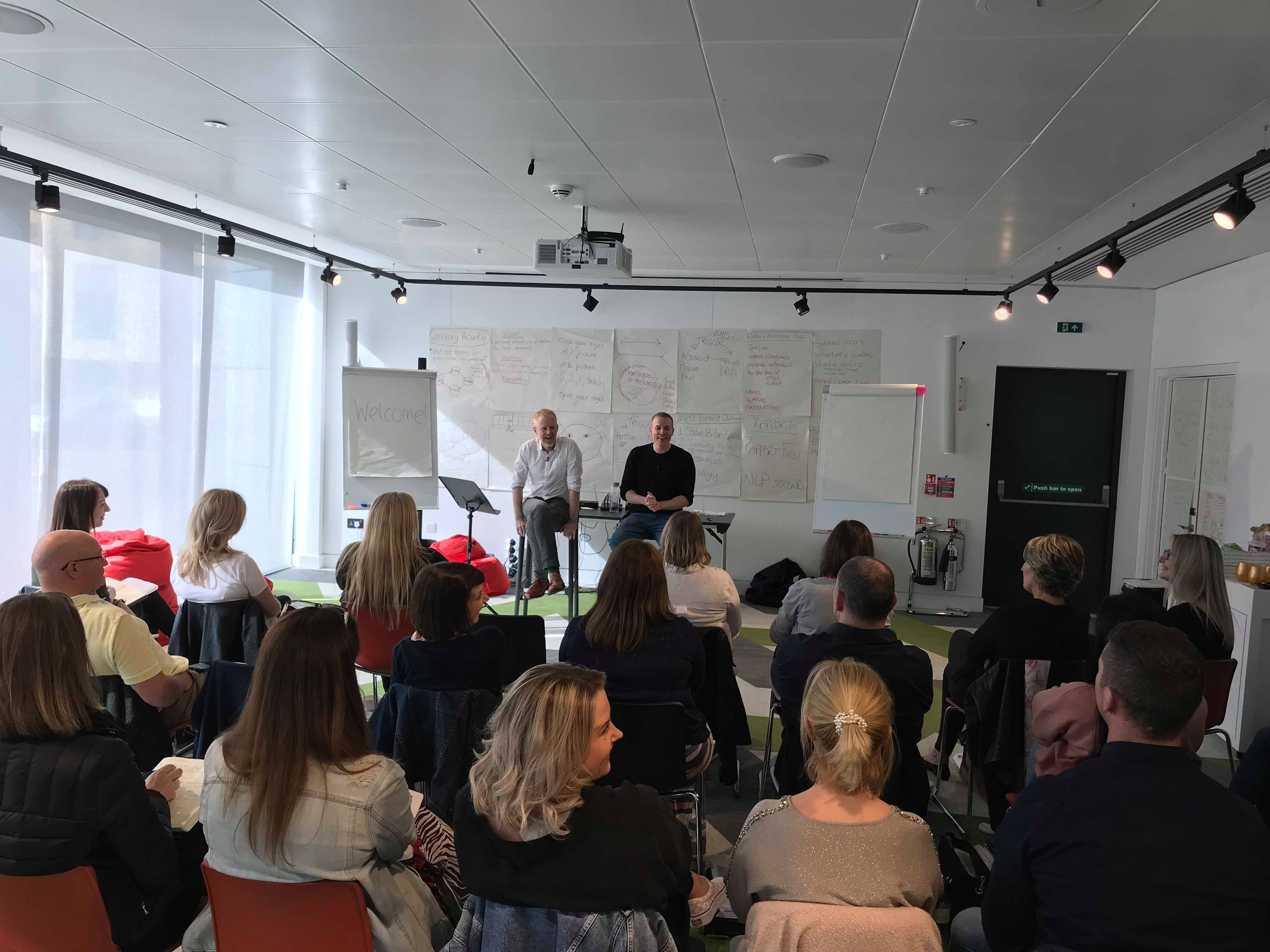 Steven Burns (Solutions in Mind) and Brian Costello (Headstrong NLP) have a combined total of over 35 years experience in the field, helping people make changes in their life and get more of what they want.
They train the latest, cutting edge communication models and psychological tools to help you get real life results now.
Between them their work has featured on radio, national and local press and they have helped thousands of people overcome personal problems and achieve their goals.
The Expert Mentoring group - Curriculum
The Curriculum will have a certain degree of fluidity because we would like to respond to the needs of the group members, however, we do have an outline that we'll be using as a basis.
Throughout the 6 weeks, the lessons will be focusing on the following:
Becoming a business professional: Knowing powerful change techniques is a great start but there's more to running a business as a coach and/or therapist. Understanding the theatre of therapy, how to structure your service, and how to best communicate that to your clients so that you get results is an art form. We'll be exploring this art and giving you methods to help you master it.
Business branding & creation: Therapists & coaches tend to be good at what they do but struggle when it comes to creating a brand that clients want to use and be part of. We'll be doing a deep-dive into brand building so that you can create a business with a solid foundation and one that has the potential for growth.
Attracting & getting clients: Filling your client funnel. The no. 1 concern as a coach, therapist or people-helper! If you don't have clients (or an audience) then you don't have a business. So we'll be exploring the key concepts behind client generation and looking at different methods to get the client conveyor belt running consistently.
Becoming an Authority: No authority, no business! We'll be explaining what it takes – and the steps you need to take – to become an authority in the minds of your clients so that they gravitate towards your service and want to be part of what you're doing.
Expanding your business beyond 1-2-1: Why limit yourself to just seeing clients 1-2-1? Traditionally, seeing clients on a 1-2-1 basis was the be-all-and-end-all. It was the pretty much seen as the entirety of a coaching/therapy business. But times have changed. There are no multiple ways to help people transform and make a difference. Like doing workshops, writing books or creating online courses. We'll be going into some of these ways and explaining how to implement them.
And a lot more…
So, if you fancy joining us on this fantastic 6 weeks of deep learning, then click the enrolment button below and we'll see you in the group!