The Expert Mentoring Group branded USB sticks consist of the 12 online masterclasses and all the associated slide decks.
Calling all people-helpers, change agents, coaches, therapists & communicators!
How would you like to receive expert mentoring, streamed directly to your living room, to help you further develop your skills as either a change-worker, coach or communicator?
Perhaps you've attended a NLP Practitioner, Master Practitioner or Coaching course in the past and you're looking to consolidate your learning, fill in some gaps, and take your skills even further.
If so, we'd love to have you as part of The Expert Mentoring Group.
The group will take place on a private facebook group (after enrolling, you'll be added to the group) and will consist of the following:
12, fully interactive, specially created Facebook Live events targeting key areas that will help you unleash your skills, talents and desire to make a difference to the world.
A suite of podcasts, pre-recorded by Brian & Steve, that will give you further insights & learning, helping you accelerate your own growth & development.
Ongoing in-group support from Brian and Steve (they'll be answering your questions during the FB lives & in between each lesson).
Additional insights & distinctions into NLP, Coaching, Change-work, and Communicating that isn't covered on a NLP Practitioner Course.
Ad-hoc videos and podcasts answering group questions and giving additional learning and development as we go through the 12 weeks.
And of course, a bit camaraderie & support from your fellow group members :-).
*Important note: if you miss any of the live broadcasts they can be viewed on playback in the group – they will also remain there for 4 weeks after the last lesson if you want to watch them again.
You can join Brian, Steve and an amazing group of like-minded professionals, in The Expert Mentoring Group for only £197 (or £210 if you want to pay in instalments) if you book before midnight on the 17th January.
That works out at just £16 per lesson including follow up Q&A and Podcast recordings (Brian & Steve are normally in the region of £150 per hour for one-to-one mentoring).
This is an amazing opportunity to model and learn from two of Scotland's leading experts in personal change.
The first lesson will be on January 27th but you can enrol anytime, and we'll add you to the group.
Your Instructors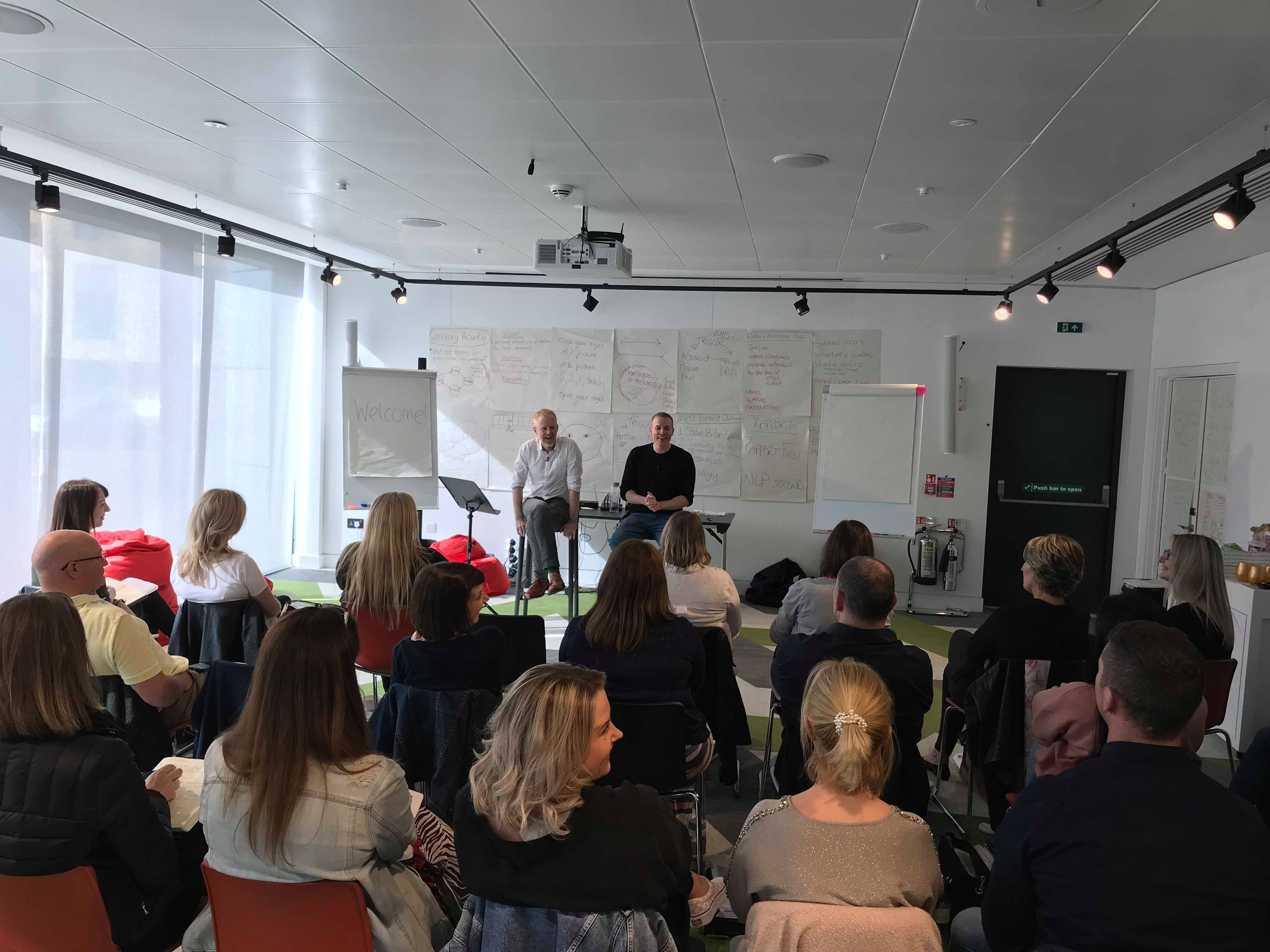 Steven Burns (Solutions in Mind) and Brian Costello (Headstrong NLP) have a combined total of over 35 years experience in the field, helping people make changes in their life and get more of what they want.
They train the latest, cutting edge communication models and psychological tools to help you get real life results now.
Between them their work has featured on radio, national and local press and they have helped thousands of people overcome personal problems and achieve their goals.
The Expert Mentoring group - Curriculum
The Curriculum will have a certain degree of fluidity to it because we would like to respond to the needs of the group members, however, we do have an outline we'll be using as a basis.
Throughout the 12 weeks the lessons will be focusing on the following:
Masterclasses on Change-work: this includes way more than just doing 1-2-1 therapy or coaching. Change-work can includes group work, speaking, writing, quick conversational change & beyond.
Masterclasses on Business: we'll be giving you our take on what it takes to be successful in business. We'll be discussing tactics, strategy & attitude.
Advice on Personal Development: this comes hand-in-hand with everything, but it's greatly misunderstood, and not applied anywhere near enough! We'll be giving you our thoughts on how to work on yourself, how to internalise the NLP & hypnosis models & ideas to help turbocharge your development.
Masterclasses on Group work: We'll be looking at how to use NLP – and other disciplines – to create talks, workshops, & design trainings that seriously pack a punch.
The topics will be reasonably diverse – and we'll be tweaking the schedule as we go along based on how things are going – but we're sure that, no matter how you're intending on progressing your skills, you'll find massive value.