*Open for Enrolment on Tuesday 12th, 2020. Check back then.
The Expert Mentoring Group consists of 7 online masterclasses (plus the ability to ask questions in between) delivered live through a private Facebook group.
Calling all people-helpers, change agents, coaches, therapists & communicators!
How would you like to receive expert mentoring, streamed directly to your living room, to help you further develop your skills as a change-worker?
If so, we'd love to have you as part of The Expert Mentoring Group.
In this cycle, we'll be doing a deep-dive into 'Advanced Change-work Skills' – scroll down for an overview of the curriculum.
The group will take place on a private Facebook group (after enrolling, you'll be added to the group) and will consist of the following:
7 fully interactive, specially created, Facebook Live events targeting key areas of Change-work that will help you unleash your skills, talents and desire to make a difference to the world.
Ongoing in-group support from Brian and Steve (they'll be answering your questions during the FB lives & in between each lesson).
Additional insights & distinctions into NLP, Hypnosis & Change-work, that you wouldn't normally get on an NLP Practitioner course.
Ad-hoc videos and audio answering group questions and giving additional learning and development as we go through the 7 weeks.
And of course, a bit camaraderie & support from your fellow group members :-).
*Important note: if you miss any of the live broadcasts they can be viewed on playback in the group – they will also remain there for 6 weeks after the end of the last lesson.
You can join Brian, Steve and an amazing group of like-minded professionals, in The Expert Mentoring Group for only £127 (rrp = £167).
*Note: Or £140 if you want to pay in instalments. If you'd like to do this please contact us via email or Facebook private message.
That works out at approximately £18 per lesson including the follow-up Q&A (Brian & Steve are normally in the region of £150 per hour for one-to-one mentoring).
This is an amazing opportunity to model and learn from two of Scotland's leading experts in personal change.
The first lesson will be on May 27th but you can enrol early and we'll add you to the group.
Your Instructors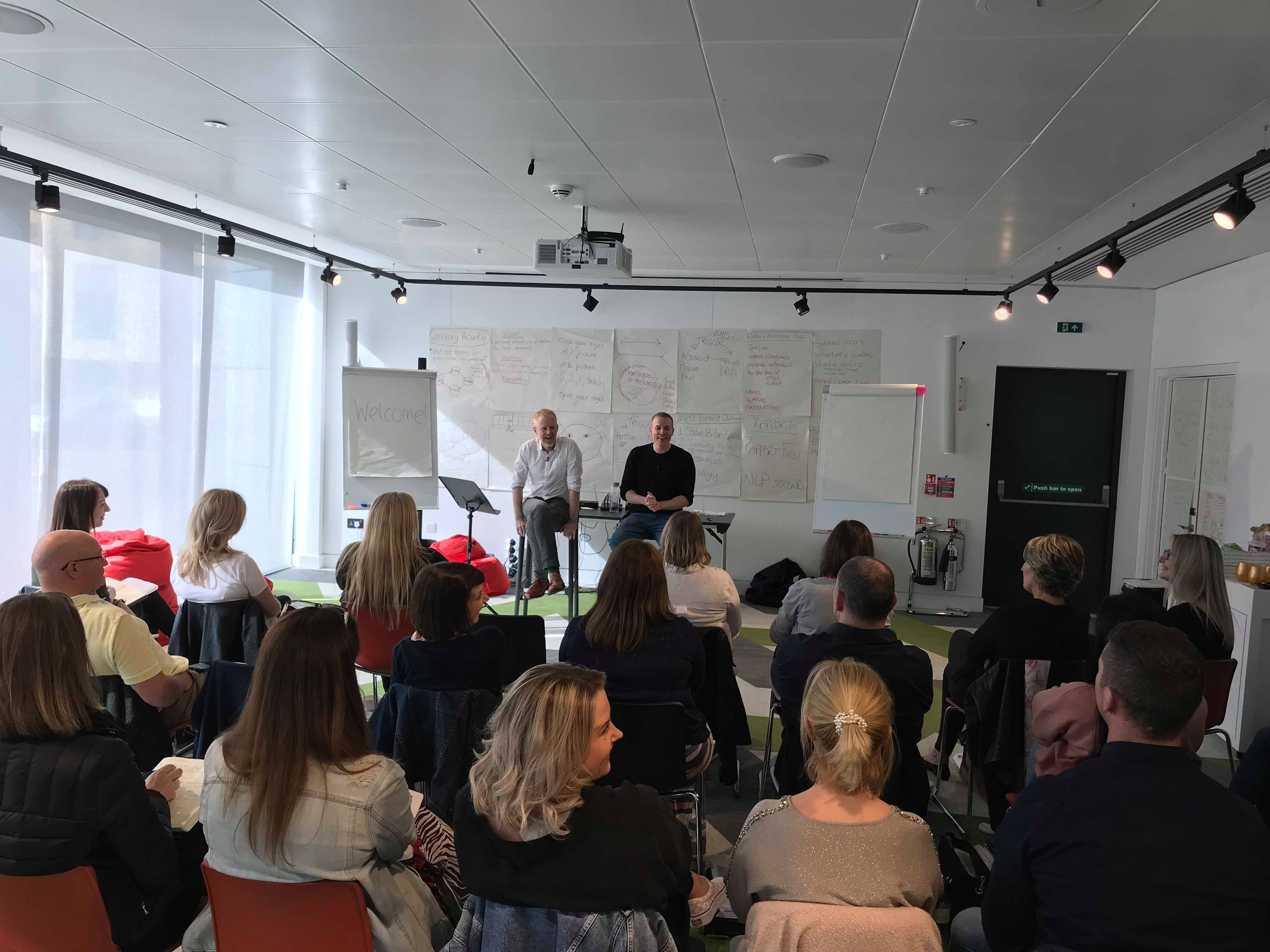 Steven Burns (Solutions in Mind) and Brian Costello (Headstrong NLP) have a combined total of over 35 years experience in the field, helping people make changes in their life and get more of what they want.
They train the latest, cutting edge communication models and psychological tools to help you get real life results now.
Between them their work has featured on radio, national and local press and they have helped thousands of people overcome personal problems and achieve their goals.
The Expert Mentoring group - Curriculum
The Curriculum will have a certain degree of fluidity because we would like to respond to the needs of the group members, however, we do have an outline that we'll be using as a basis.
Throughout the 7 weeks, the lessons will be focusing on the following:
Masterclass on Technique:

we'll be diving deep into both techniques & 'technique'. If you thought the change techniques were simply just steps in a manual, you'd be wrong! We'll be exploring the deeper principles behind them & showing you how to prime and set-up change-work processes so that you get the biggest bang for your buck.

Deeper into Change Work: We'll be exploring and offering advice on how to make changes within the deeper levels of your neurology – E.G The layer of belief, value, and identity.
Conversational Change: Why limit yourself to just techniques? Create change anywhere with the skilful use of language and conversational persuasion. Conversational change is an integral part of any change process you take a person through, so it's an invaluable skill to have. Also, by understanding language, it can help you create pin-point change in yourself.
Ethical Influence: We'll be doing a deep-dive into the topics of influence & persuasion. But not in a way that leaves you feeling 'icky' when you use it. In a way that allows you to create compelling value for others that becomes irresistible. The ability to Ethically Influence is a key skill to possess if you are a coach, therapist, teacher, trainer, or a business owner.
Advice on your own Change-work: As always, a big part of change-work is your own learning & development. We – and the group – will be offering tips and advice throughout to help you overcome key limitations and make the changes that really matter.
So, if you fancy joining us on this fantastic 7 weeks of deep learning, then check back and enrol on Tuesday 12th.